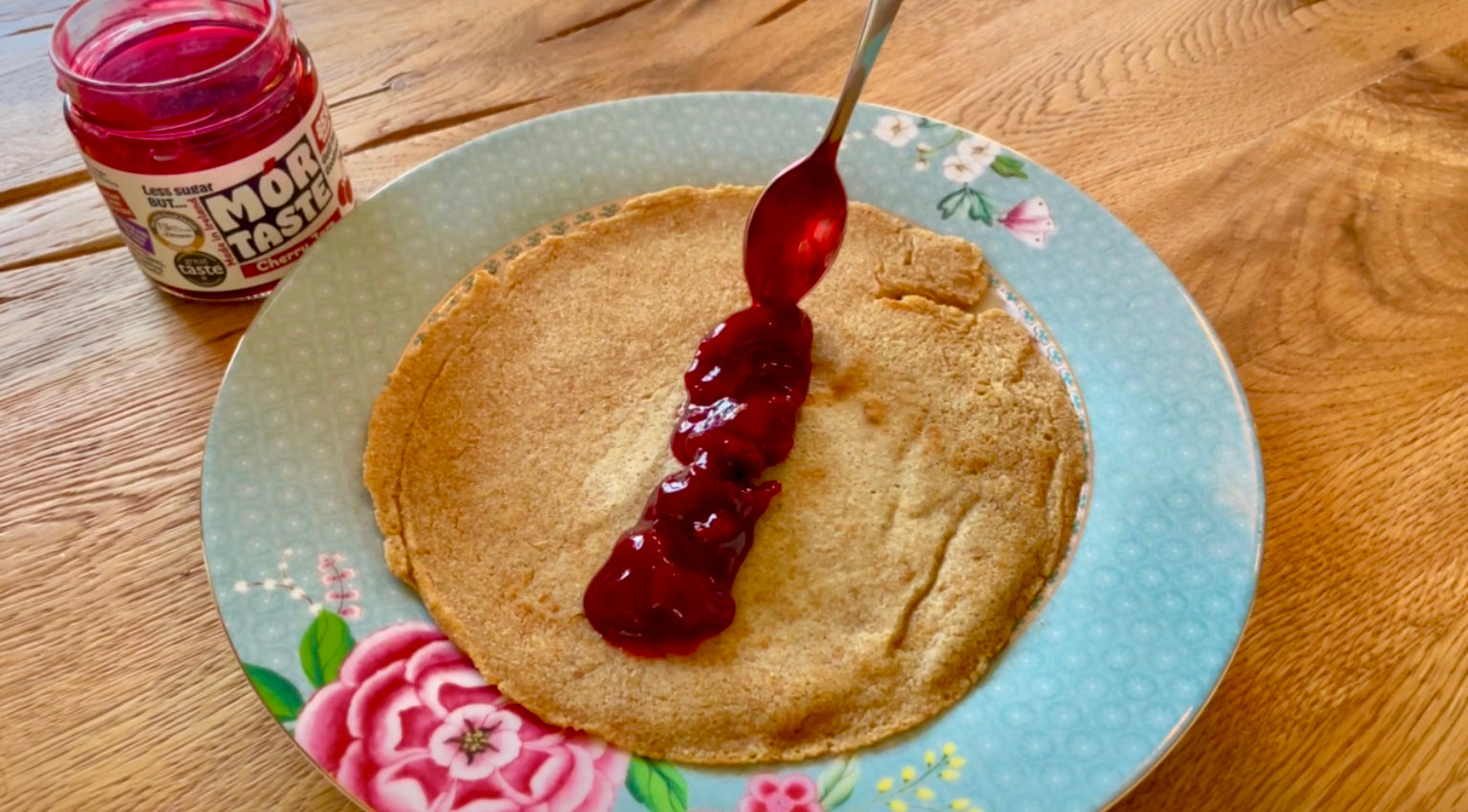 Posted on
---
You don't need an event like pancake day to make delicious pancakes (but remember that pancake day is approaching fast). 
Equally you don't necessarily need eggs or butter, vegan pancakes are just as tasty. And when you upgrade your pancakes with Mór Taste Jam, they become even tastier (and fruitier (and they're better for you as they're low sugar)). 

What do you need to make 4 pancakes:
150g flour
225ml plant-based milk auch as oat milk. Feel free to use other milks to your taste, personally I really like using coconut milk
a pinch of salt
a pinch of sugar
2 tbsp sparkling water
A Pinch of turmeric for the look (optional)
1 jar of Mór Taste jam
How to make it:
Step 1: Mix the flour with plant milk, salt, sugar and mineral water for a smooth batter. Add more flour or water as you like: the thicker the batter, the thicker your pancakes will be. Optionally stir some turmeric into the batter to give the pancakes a yellowish color.
Step 2:  Heat the pan, heat up some vegetable oil or vegan butter and bake the pancakes in portions for about 2-3 minutes on both sides. Keep warm in the oven at 70 degrees top/bottom heat. The batter makes about 4 vegan pancakes.
Step 3: Top up your vegan pancakes with Mór Taste Jam. We really like the Cherry Jam as the Taste just suits the pancakes. Alternatively you can use fresh berries, apple sauce or chocolate as you like. The simple basic batter is also suitable for savory pancakes: the vegan pancakes taste just as good with hummus and fresh vegetables such as spinach, peppers or tomatoes.
 Step 4: Enjoy, but remind yourself that your partner, kids, family or friends might like one too - so don't eat all at once!
Oh no, that pancake was eaten too quickly to take a picture. 🫣
Quick links
Contact
Well Preserved Ltd.
Mór Taste
Haggardtown
Killinick
Co. Wexford