60% Less sugar - Simply Mór Taste
Probably the fruitiest jams in the world, we boost the fruity taste of guilt-free goodness on your spoon.
What customers say about Mór Taste:
"It's fecking delicious."
"How do they manage to make it so fruity?"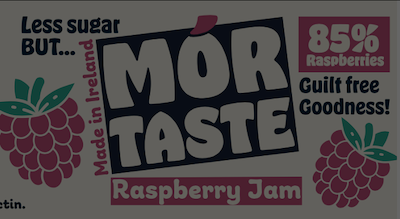 "Actually tastes like fruit."
"This made me realise how sweet other jam actually is."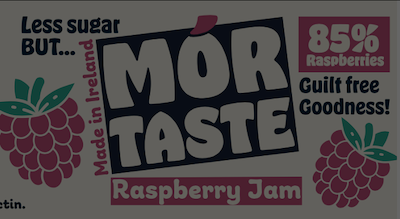 "It's the nicest jam I've tasted yet."
Best Irish Jam and Great Taste Star 2022:
Less sugar but Mór Taste!
Our Cherry Jam was awarded the best Irish Jam in 2022, winning the Blas na h'Éireann Gold Award. 🥳
No more 50% sugar in jams! (See here why). Instead of using a lot of sugar, we reduce the sugar to the absolute minimum. We don't even add any other form of sweetness (such as concentrated fruit juice or artificial sweeteners). Instead, we simply use more cherries. A lot of cherries!
The Mór Taste Cherry Jam has a much higher content of real fruit than other jams. That's why its consistency is softer, making it a perfect addition to bread, toast and scones - but also much more: Spoon this luscious fruity jam on pancakes, yoghurt or porridge - or eat it straight from the jar.
And, with such a high content of real fruit, our Cherry Jam is even High in Fibre: With 3.7g per 100g it contains more Fibre than any other Jam in Ireland. It's not only tasty, it's also good for you and your gut bacteria.
High sugar, fruit juice concentrate or sweeteners in jams? Not with Mór Taste! 
Ingredients

+

Cherries (85%), Sugar, Gelling Agent Pectin
Nutritional Values

+

Typical Values per 100g:
Energy: 487kJ/116kcal
Fat: 0g
of which saturates: 0g
Carbohydrate: 28.6g
of which sugars: 20.0g
Fibre: 3.7g
Protein: 0.5g
Salt: 0.01g
Other information

+

Blas na h'Éireann Gold Award 2022
Great Taste Star 2022

Prepared with 88g of Fruit per 100g
Total Sugar content 25g per 100g

May contain pits or parts thereof.
Use a clean spoon, it will last longer after opening.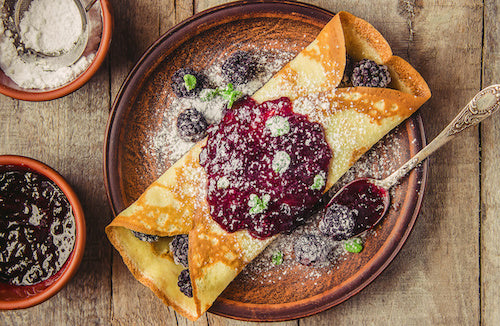 Fruity Jams are Perfect for
Pancakes, Porridge, Baking, Waffles, Yogurt - and much Mór
Bread and Toast
A little softer than other jams, Mór Taste is great on any type of bread or toast.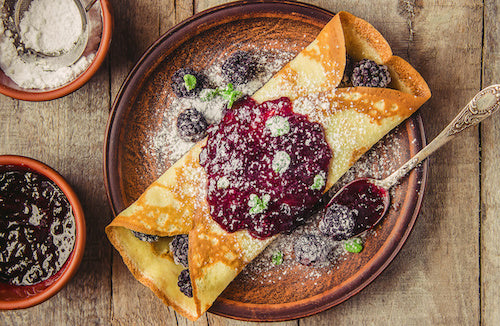 Pancakes
Use as a filling or just smother over freshly made pancakes. Yummy.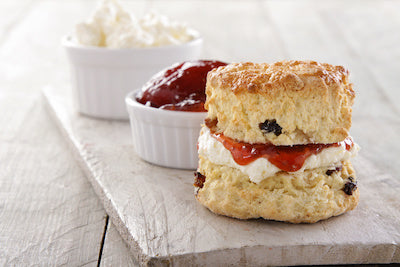 Freshly baked scones
A warm scone, freshly made with cream (or butter?) and topped with Mór Taste. 😋
Baking
Lower in sugar, Mór Taste is perfect for baking.
Straight from the spoon
With Mór Taste, there's nothing to hold you back. Low in sugar but very high in fruit, you can just eat it straight away.