Hello! I'm Felix
I've been working in the food industry for more than 14 years. I have worked in different food manufacturers and in retail in various countries. Having great job titles and doing cool things (such as judging cheese at the World Cheese Awards) was pretty amazing.
However, over time, I was increasingly frustrated with how the food industry works: Focused on profits only instead of making products good and healthy for you.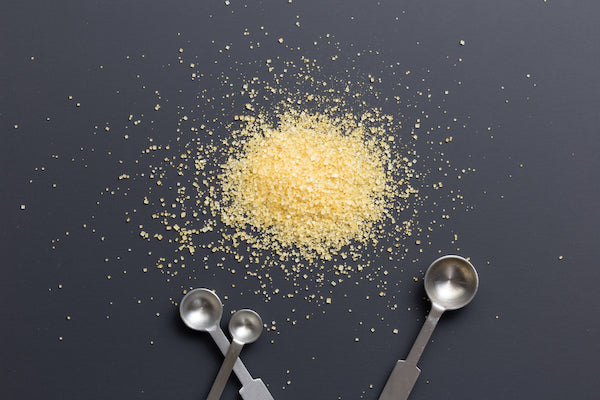 I was told by my doctor to cut back on sugar.
Why?
Too much sugar consumption is associated with diseases such as obesity, liver disease, type 2 diabetes, high bad cholesterol and hypertension (Source: EFSA)
At the same time, sugar is cheap. And it's tasty. That's why companies like using sugar, and they use it a lot.
They get very creative hiding sugar in their products and giving it different names such as "fruit juice concentrate", "fructose", "unsweetened grape juice" and many more.
New Chapter in 2023
After being told to cut back on sugar, I started looking into making a lot of food myself. And as no jams were available that are actually low in sugar and completely natural, I started making these. The focus was to use less sugar to make jams better and healthier. It turned out that much sugar isn't needed, and reducing sugar (and increasing the fruit content) makes the products even tastier and less sweet. I gave up my job at Kellogg, focusing on making products that are better and tastier - Mór Taste was born.
What's different at Mór Taste?
We reduce the sugar to the lowest level possible while products still taste great.
We don't substitute sugar with any other form of sugar such as concentrated fruit juice or artificial sweeteners - we just use more fruit. A lot of fruit.
We only use natural ingredients: Fruit, Sugar, Pectin.
We have probably the highest fruit content of jam in Europe, making our jams very fruity but less sweet. (Fruit content of fruit claimed in the name such as strawberries in a strawberry jam).
Blas na h'Éireann Gold 2022
I was convinced that a fruity but less sweet taste is even better (with some of the regular jams I couldn't even taste what fruit it was, it was just sweet).
And it turns out that the judges at the Irish Food Awards agree: They have given our Cherry Jam the Gold Medal, making it the best-tasting Irish jam 2022 (we called ourselves "The Jam People" in 2022).
Do you agree too?
Mór questions? Get in touch today:
Write as an email to wewant@mortaste.ie or fill out the form below.
Quick links
Contact
Well Preserved Ltd.
Mór Taste
Haggardtown
Killinick
Co. Wexford